Fibre Products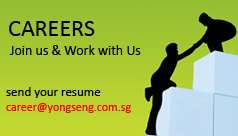 Quick Contact
Fibre Glass Roofing

At Yong Sheng Fibreglass Pte Ltd we are proud to offer both domestic and commercial roofing packages. We offer our expertise in the field of fibreglass roofing for roofs ranging from a small balcony roof right through to the big industrial / commercial applications.

By using seamless fibreglass, yongseng, a family-owned independent business which employs a team of professionally qualified fitters, can provide a permanent maintenance-free remedy for leaking flat roofs. Our properly laid fibreglass roofing, will last for long years with no measurable deterioration.

Whether it's a domestic or commercial property, whatever size of complexity, whichever color is preferred, fibre roofs has the expertise and experience to provide the solution to the required area. The fibreglass roofing system is suitable for Factory dormers, extensions, porches, balconies and, for that matter, any flat roof on a property.