About Yong Seng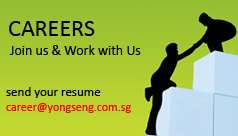 Quick Contact
Our Profile

Yong Sheng Fibreglass Pte Ltd was established in 1980, located at 31 ,SungeiKadut industrial Estate st 2.And specializes in the manufacturing of a wide range of fibreglassproducts.From basic general purpose applications to chemical resistance grade even to Fire resistance grade Class One.

Fibreglass is a durable and flexible material and is ideal to use in the manufacturing of various products from boats, fascias and gutters through to swimming pools, security huts and specialized moldings.Our business operates with wide and huge range of spacious fibreglass Manufacturing facility .

Perfection is what we pride ourselves and this is why our products would be good quality forever at every time and that's why our customers keep coming back to catering with us, they have peace of mind and faith in our abilities. With commitment to quality standard and correct trade practices that are followed throughout the entire process;!If you want a production run we can handle anything at all, big or small we do it all!